Abdu Rozik Biography
Abdu Rozik Family
Abdu Rozik Education
Abdu Rozik Hobbies
Talking about Abdu Rozik's hobbies, he has been fond of singing and dancing since childhood, and this is the reason why he is a professional singer today.
Abdu Rozik Physical Appearance & Stats
Abdu Rozik Relationship & Affairs
Talking about Abdu Rozik's affairs, he is currently single but once in an interview, Abdu had told about having a girlfriend in his past. But since then he is still single and very happy.
Abdu Rozik Social Media Handle
Abdu Rozik Favourite
Abdu Rozik Crush
Ever since Abdu Rozik entered Bigg Boss, he has become the favourite of the entire nation. In Bigg Boss, Sajid once asked Abdu, "How would he feel if Nimrit leaves Bigg Boss?" After this, Abdu "slowly banged his hand on the table and said that he would not like it at all".
Regarding this, Nimrit has also openly said that "Abdu makes her feel very attractive". Abdu also tells that "he likes her and wants to marry".
Abdu Rozik Career
Abdu Rozik used to sung since childhood but success was found in the year 2019 and his songs were well-liked worldwide. In his songs, Abdu portrays the difficulties and challenges he has faced in his own life, which people all over the world can connect with.
Abdu Rozik Big Boss
At present, Abdu is out of Bigg Boss because he had some different work commitments left, which he has come out to fulfil. But he has managed to make his place in the hearts of the entire nation.
Abdu Rozik Disease
Seeing the height of Abdu Rojik, many people believe that he is still a child but it is not so. Abdu is now 19 years old and the reason for his short height is a disease that he had in his childhood. The name of the disease that Abdul is suffering from is Rickets, due to which his hormone growth has decreased. The disease that Abdu Rozic had is usually caused by a lack of vitamin D.
In this disease, the bones of the body become weak, but if treated at the right time, this disease could be cured. This disease could be treated but Abdu's parents did not have enough money to afford the treatment of this disease and this is the reason that today Abdu's height is so low. If he had got the right treatment at the right time, today Abdu would have been like a common man.
Abdu Rozik's statements on his disease
Regarding this, Abdu Rozik was once asked in an interview if this medical condition of his ever affects his confidence or anything else. On this, Abdu replied –
"Not really. I know many people who have no job, no good family and no money. I have also struggled a lot, but where I have reached now. , happy with that. I shared the stage with the biggest musician in the world; what more do I want in my career? I want to inspire people who are in the same situation. I believe everyone is special in some way It happens."

Abdu Rozik
Abdu Rozik Net Worth 2023
Abdu Car Collection
Some Interesting facts about Abdu Rozik
A video of Abdu Rozik went viral long ago, in which he was seen fighting with Russian TikToker and MMA fighter Hasbulla.
Abdu also has a Guinness World Record as the world's smallest singer with just 3 feet 1 inch.
He currently speaks Tajik, and Farsi but still has the urge to learn and is now learning Russian as well.
Rozik is currently sponsored by a large UAE company ifcm.ae.
He also got a chance to represent his country at the Expo 2020 convention.
Abdu was given the Golden Visa of UAE at the age of 17 only.
Abdu had a passion for singing since childhood and he started singing when he was only 6 years old.
Wherever he is today, Tajik rapper Baron's hand is somewhere in him because when Baron saw Abdu singing, he took him to Dubai so that he could make his career there. Somehow Abdu convinced his family and went to Dubai.
Abdu Rozik was invited as a guest at the 2022 IIFA Awards, which took place in UAE. Here Abdu sang the song "Ek Ladki Ko Dekha Toh Aisa Laga" for Salman Khan and won the hearts of all.
Abdu Rozik Photos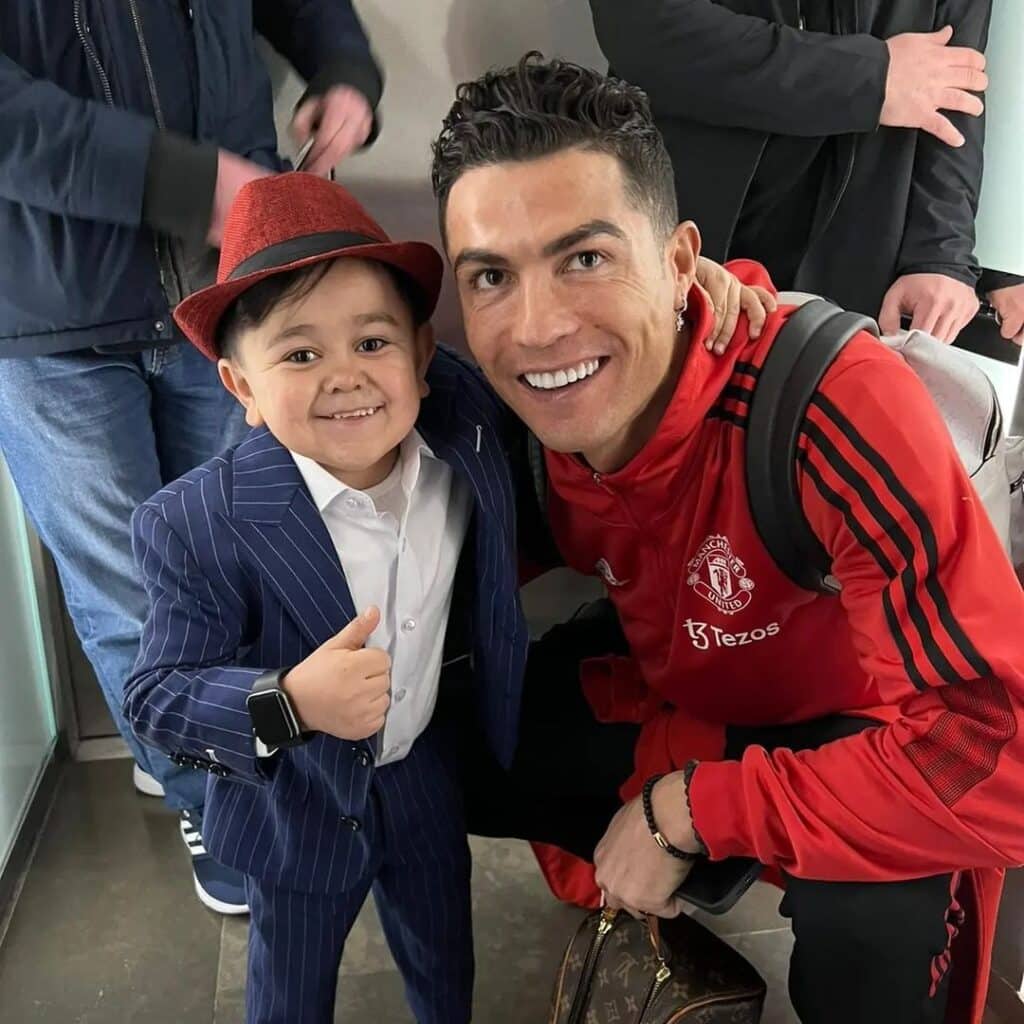 Conclusion
No matter how much praise is given to Abdu Rozik, because today he is at this stage even after such a struggling life, he was also mocked many times for his small height, but still, he did not give up. Today he has become an inspiration for millions of people who have to struggle a lot in life.
Today he has met all the big personalities of the world. Abdu tells that he will soon buy a house for his family. So today we have given you complete information about Abdu Rozik Biography, Age, Height, Family, Net Worth, Diseases, apart from this if you have any questions then you can ask us in the comment section.
FAQ Related to Abdu Rozik
Is Abdu Rozik a child?
No, Abdu is 19 years old and he had a disease called Ricket in his childhood due to which his height stopped at 94 cm only.
How is Abdu Rozik rich?
Abdu Rozik is the world's smallest-height singer and most of his earnings are from singing, apart from this he earns from paid promotion and sponsorship.
Is Abdu Rozik Indian?
No, Abdu is from Tajikistan but recently he appeared in India's reality show Bigg Boss, so most people consider him Indian.
Why is Abdu Rozik so famous?
Abdu Rozik holds the Guinness World Record for being the world's shortest singer.