Amrita Singh is counted as one of the actresses in Bollywood who mesmerized the audience with her romantic performances in the 80s. During that period, she won the hearts of the audience with his films as well as his beauty. She had made a different identity in Bollywood in a very short time.
Although this actress, who was very successful professionally, got cheated every time in love. Even after three affairs and marriage, today this actress is forced to live a lonely and lonely life.
Today we are going to tell about the actress Amrita Singh, who has become the heartbeat of every youth of the 80s. Amrita Singh has given many films in her career, she has worked with many big artists.
Amrita Singh's Biography
| | |
| --- | --- |
| Name | Amrita Singh |
| DOB | 9 Feb 1958 |
| Age | 64 |
| Height | 5'1″ |
| Profession | Actress |
| Father's Name | Sardar Shivinder Singh |
| Mother's Name | Rukhsana Sultan |
| Famous Movies | Betaab, Mard |
| Children | Sara Ali Khan, Ibrahim Ali Khan |
| Husband | Saif Ali Khan (div 2004) |
Amrita Singh's Personal Life
She was born on 9 February 1958 in a very prosperous family in Pakistan, later her family settled in India. Her father's name was Sardar Shivinder Singh while her mother's name was Rukhsana Sultan. Her mother Rukhsana Sultan was a prominent Youth Congress leader in her time while famous writer Khushwant Singh is Amrita's uncle.
Also Read:
Amrita Singh's Career
Amrita Singh was very popular in the 80s and 90s, during this time she worked in many films and made a big recognition. Amrita Singh started her journey in Bollywood in 1983 with Dharmendra's son Sunny Deol in the lead role. The film 'Betaab' was the debut film of both Sunny Deol and Amrita Singh, the pair made a lot of noise on the screen and the film Betaab proved to be a huge hit.
In 1984, the superhit pair of both was once again seen in the film 'Sunny', after that Amrita Singh made a tremendous splash in the film Mard with Amitabh Bachchan.
Amrita Singh's Filmography
Apart from this, the success of films like Sahib, Chameli Ki Shaadi, Naam, Khudgarj, Charano Ki Saugandh, Raju Ban Gaya Gentleman, Aaina and Rang made Amrita Singh one of the top actresses of that era.
Amrita Singh was well-liked on screen with stalwarts from Sunny Deol, Amitabh Bachchan, Mithun Chakraborty, Sanjay Dutt, Jackie Shroff and Anil Kapoor. She also won the Filmfare Best Supporting Actress Award for films like Raju Ban Gaya Gentleman and Rang.
Amrita Singh's Affairs
Amrita Singh, who lived a cool life after the immense success of her first film, was also very much discussed in the film world about her love affairs. The more Amrita Singh's career progressed, so did the stories of her love and affair.
Amrita Singh's affair with Sunny Deol
Amrita Singh appeared in her first film opposite Sunny Deol. This was also Sunny's first film with Amrita and her love affair with Sunny Deol was also very much discussed. Sunny wanted to suppress this, while Amrita wanted to tell the story of her love to everyone.
It is said that while working, Amrita and Sunny were giving heart to each other. Although Sunny was married at that time, when Amrita came to know about this, she broke her relationship with Sunny.
Amrita Singh's affair with Ravi Shastri
After the end of her relationship with Sunny, Amrita's heart fell on former Indian cricketer Ravi Shastri. The affair both made a lot of headlines during that time. Amrita had also gone to Sharjah to watch Ravi's match where she was seen applauding every four and six hits by Ravi. Some pictures published in the magazine of Amrita and Ravi also created a lot of sensation.
Amrita Singh's & Ravi Shastri Engagement
It is said that Ravi and Amrita were very serious about their relationship, both of them gave a new name to their relationship and both got engaged in 1986. Although the relationship of both could not reach the wedding pavilion, soon both of them separated and this relationship of Amrita Singh also failed.
Also Read:
Amrita Singh's affair with Vinod Khanna
After this, Amrita Singh was offered the film 'Batwara' with Vinod Khanna, during which Amrita liked Vinod while working. Amrita tried a lot to get him but all her efforts failed. But Amrita was determined to make Vinod Khanna her own and gradually Vinod Khanna also started getting attracted to Amrita and the affair both started.
Soon both of them also got into a relationship, although this relationship also did not last long and there was a big age gap between Vinod. Amrita was about 12 years younger than Vinod. Amrita's mother was not happy with this relationship, so this relationship also ended very soon. At the behest of her mother, Amrita got away from Vinod when Saif Ali Khan knocked on Amrita's life.
Amrita Singh's affair with Saif Ali Khan
Amrita Singh was at the height of her career in the 90s when she decided to marry Saif Ali Khan, 12 years younger than her. Amrita Singh and Saif Ali Khan met for the first time and both were attracted to each other. Amrita was the top actress at that time and Saif was just a struggler.
After the end of the photoshoot, Saif Ali Khan became crazy about Amrita Singh. Finally, Saif Ali Khan told his heart condition to Amrita Singh. Amrita also said in response that she also loves him, on the one hand, Amrita was 33 years old and she was desperate to get married. The only 21-year-old Saif Ali Khan was looking after his career apart from marriage. There was a difference of 12 years in the age of Amrita Singh and Saif Ali Khan.
Amrita Singh & Saif Ali Khan Marriage
But despite all odds, both Saif and Amrita had decided that they could not live without each other. Both had decided to spend their whole life with each other. But Saif Ali Khan's family did not approve of this relationship and finally, Saif and Amrita got married in a private ceremony in the year 1991.
But within no time, their marriage started falling apart and after 13 years of marriage, both of them decided to get divorced.
Amrita Singh & Saif Ali Khan Divorced
According to media reports of that time, Amrita Singh had decided to separate from him because of Saif's affairs. While in the year 2005, Saif Ali Khan denied this in an interview, according to Saif, her bad behaviour was behind his separation from Amrita which was not at all good for Saif and his family. Because of this, there started to sour between the two and both of them decided to separate.
Children of Amrita Singh and Saif Ali Khan
Saif has two children with Amrita Singh named Sara Ali Khan and Ibrahim Ali Khan. After working in the film Rang in the year 1993, Amrita distanced herself from films to take care of her husband and family.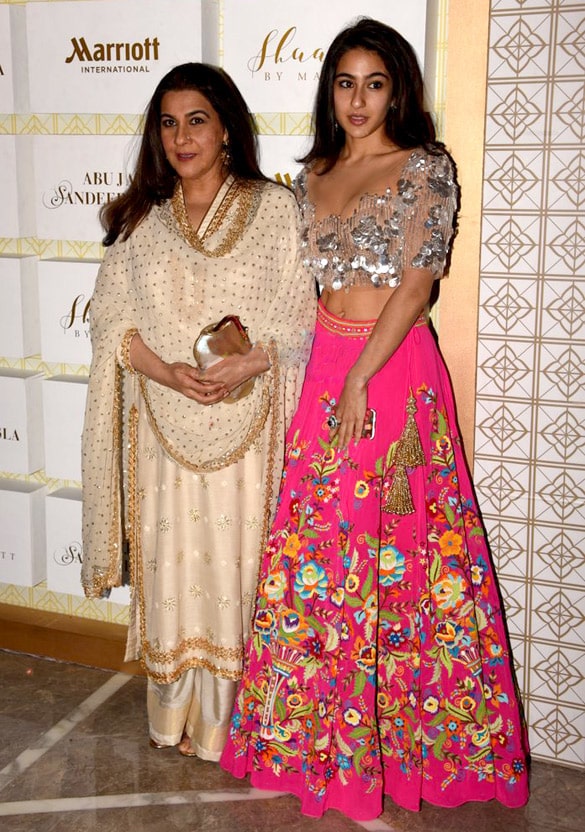 Amrita Singh's comeback to Bollywood
But after a long gap, she has once again started appearing in films. Amrita made her Bollywood comeback in the year 2002 with the film Shaheed and appeared in important roles in films like 2 States, Hindi Medium, Flying Jatt and Badla, as well as worked in TV serials.
On the other hand, Saif Ali Khan married Kareena Kapoor in the year 2012. Saif Ali Khan and Kareena have two children, Amrita Singh is currently living in Mumbai.
Amrita Singh Net Worth 2022
Amrita Singh's net worth in 2022 is $2 million USD i.e. around Rs 16 crore. Apart from this, Amrita Singh also owns Belscot Bungalows in Andheri and also owns Audi and BMW cars.
Conclusion
Our entire team wishes for the good health and longevity of Amrita Singh Ji, So friends, we hope you enjoyed reading the biography of Amrita Singh. Tell us your thoughts about Amrita Singh Ji and you can tell us your favourite song in the comment section.
Q.1 What is the age of Bollywood actress Amrita Singh?

Amrita Singh was born on February 9, 1958, according to this she is now 64 years old.

Q.2 What is the name of Amrita Singh's mother?

Amrita Singh's mother's name is Rukhsana Sultan and she had also been a leader of the Youth Congress in her time.

Q.3 When did Amrita Singh start her career?

Amrita Singh started her Bollywood career with the film Betaab in 1983, in which Sunny Deol was seen with her.

Q.4 What is the name of Amrita Singh's husband?

Amrita Singh married Saif Ali Khan privately in 1991 but they got divorced in 2004.